Games Workshop Games
Legal notice
I have identified the following GW games: Adeptus Titanicus, advanced hero quest, Apocalypse, battle cars, battle bikes, battle for armageddon, battlemasters, battlefleet gothic, blood royale, bloodbowl, deathzone, bommerz over da sulpher river, calamity, call of cthulhu, chainsaw warrior, chaos marauders, combat cards, cosmic encounter, curse of the mummy's tomb, dark future, doctor who, dr who, doom of the eldar, dragon masters, dungeon adventurers, dungeon bowl, dungeon quest, epic battles, fury of dracula, golden heroes, gorkamorka, hero quest, horus heresy, judge dread, slaughter margin, city block, kings & things, kerrunch, man o' war,middle earth, mighty empires, mighty warriors, mordheim, quircks, railway rivals, rogue trooper, space crusade, space hulk, deathwing, genestealer, space fleet, space marine, superpower warhammer, talisman, valley of the four winds, warhammer, warhammer 40k, warmaster, warhammer quest, warlock, warlock of firetop mountain, warrior knights, let me know if I'm missing some...
In the past, GW produced a lot of different board games (usually with loads of stuff) and role playing games. Except for their current 'main' games (Warhammer, Warhammer 40K and a few spin off's), all of these games are Out Of Print and collecters items.
There are rumours that GW will republish a number (3) of the older games. Possible candidates are necromunda and talisman (Note: I love to believe these rumours, but i'm affraid they are just 'bogus') .
If you are looking for something specific use the 'Find' of your browser as it may be noted as an expension of a game. I did not include the many novels and books on Warhammer (40K). I will add in more information over time.
Novels, jigsaw puzzles, etc. and expensions to WHF and WH40K are not included, neither are all the different miniatures...
About the miniatures, most games carry the usual 25mm miniatures. Two exeptions, the Warhammer and Epic series carry 6mm scale miniatures. Should I mention that most games come with additional (seperatly sold) miniatures? Neeeh!
Computer conversion have been made for 40K Epic (Final Liberation), Warhammer and Bloodbowl, but in general they are not that good.
I left out Cars Wars (Steve Jackson), i'm not quite sure if GW ever distributed game.
If you are looking for second hand GW games, check here
(help me if you have additionale information)
Note: on the bottom page you will find the links where I found info & pictures. In most cases I linked the pictures back to their original site. Also, you will find the 'thank you'-list on the bottom of this page.
In most cases, if you click on the pictures, you'll get more information, if I found a good link. >>>NOTE: Pictures may vary per edition<<<
Name
Content
Info
adeptus titanicus

Epic battles between gigantic robots, 3D role play (Warhammer 40K spin off).

Includes 8 building (see upper right corner of the picture)

Published in 1988 (Jervis Johnson)

apocalypse

'Last player standing' game set in a nuclear war scene. Loads of counters, 36 interlocking building units.

OOP (1980)

badlands
battle cars

Very reminiscent of Steve Jackson's "Car Wars". Players design cars for battle and drive around a pre-set arena. Last car still able to move wins. Uses counters.
Expensions: Battlebikes

OOP (1983)

battle for armageddon

This is a 40K thing, (minatures / army), here come another 145 counters.

Expensions: Chaos Attack

There is another 'armageddon' game to be found at the armageddon site. This is more of a 40K scenario though, not this game.

battlemasters

In cooperaton with Milton Bradley. Kind of rip off when compared to the 'great' GW games.
battlefleet gothic

Wargame with space ships manouvering around planets. This box contains the Battlefleet Gothic rulebook with campaign rules, 4 Imperial Cruisers, 4 Chaos Cruisers, 12 assorted dice, Fleet Registry roster pad, 2 plastic range rulers, over 100 game counters, two reference sheets, and a getting started guide with 8 page comic strip.

60 Euro, nearly OOP

battlefleet warpstorm

Battlefleet Gothic Warp Storm book by Games Workshop. Contains Rules, Scenarios, Collecting, Tactics, New Ships, Battle Reports etc

block mania

Each players get a block to defend, while destroying the other players block. 30-50 Euro

Expension: MegaMania (multiplayer: 4 players) comes with 2 additional boards. OOP (1987), 20-30 Euro

blood royale



Apparently a lookalike of Warrior knight, more complex. Blood Royale is a game of treachery,double-dealing,power-politics, dynastic aggrandisement and open warfare, set in the world of 14th Century Europe. Kind of Diplomacy game
Loads of stuff included. A 6 piece puzzle board game.

OOP (1987)

bloodbowl

Violent Fantasy variant of American Football. Loads of miniatures (see my pages). Add on's: Deathzone. Best link

40 Euro. Rereales in 2001, new teams/rules are released every once in a while. Very good game (that is: I like it).

bommerz (over da sulpha river)

Battle with Orcish starships. As I have this game, I'm not impressed.

OOP (5-20 Euro)

calamity!

A GW game published in ass. with the Sentry Group of Insurance companies. Designed by Andrew Lloyd Webber (yes the famous one). Mechanics from Derec Carver and Ian Livingstone.

very OOP (20-50 Euro) (1983)

chainsaw warrior

Apparently a rather poor game. And: a solo game! Contents: 4 piece playing board, 108 house cards, 22 wandering zombie cards, 36 equipment cards (+extra), 90 markers, rulebook, comic book, 2 D6.

OOP (1987) Designed by Stephen Hand.

chaos marauders

Try to collect as many valuable Orcish stuff possible. Easy game, but very funny (frustrating). Card game.

OOP (1987) Designed by Stephen Hand.

combat cards

Various card sets,: Dwarfs, Goblinoids, Warriors, Spacewar, Monsters & Chaos.

Each pack comes with additional (silly) game rules. Not much of game, but very OOP (and hopefully it stays that way).

cosmic encounter

In coop with EON. Not a GW homebrew game though. Very good game. (Hasbro's version has a (very) better look feel though)

OOP (1978)

curse of the mummy's tomb

Apparently a good game, but not every one agrees. One of the last non-miniature games. OOP (1988). Lots of stuff including (including 112 PLAYING CARDS, 32 ATTRIBUTE MARKERS. 55 TANA LEAFS)
dark future



Dark Future - 1988. Another "Car Wars" variant with 3-D figures and a bloated 90
page rule book. The rules claim to be "comprehensive, not complex", but they are sometimes a little too... comprehensive to keep straight.

Expensions: White Line Fever (Advanced rules) (1988)

dark future white line fever

Expension of Dark Future.
doctor who

Basic idea: find six tokens (according to mission card) and return them.

OOP (1980) Derek Carver

doom of the eldar

Tyranid Hive Fleet against gallant defenders of Craftworld (40K world).Contains 83 counters, full colour map of Iyanden Craftworld and the surrounding area of deep space, one warp gate template, one wave assault track, one reference sheet, 2 six-sided dice and a rule book (+ background information on the Eldar and Tyranid races. OOP (1993). approx 70-80 Euro.
dragon masters

Something in between Risk and Talisman. Players are competing in the elven homeland. Players have to manage an economy based on villages and cities as they recruit dragons to defeat their enemies. Designed by Ian Livingstone (source boardgamegeek)
OOP (1991) Ian Livingstone
dungeon bowl

click here for the tiles
Bloodbowl variant played on customizable board (Note, this game is often played just with the DB rules, but with parts from WH Quest and others) parts. DB is standalone to a certain extent (You need the rulebook of BB) OOP: 50-100 Euro (I bougth the seperate pieces (excl. miniatures for $10)
dungeon quest


Bit of a kids game with poor interaction, but apparently with lots of game fun. Originally designed by a Scandinevian company (known as 'Drakborgen').

Expension: Catacombs, Heroes

Designed by Jacob Bonds en Dan Glimne

OOP (1987)

dungeon quest heroes

This DQ add on adds additional heroes and accessories.

Content:1

Ebay: 30-50 Euro

dungeon quest catacombs

32 Catacomb Cards,5 Catacomb Entrance Tiles, 4 Direction of Travel Counters, 11 Magic Amulet Cards, 10 Snotling Counters, 20 New Room Tiles,12 New Room Cards, (12) Search Cards, 2 Crypt Cards, 2 Trap Cards,8 Treasure Chamber Counters, 1 10-sided die, Rulings, Reference.

Ebay: 30-50 Euro

epic40K / epic battles


Large scale 40K.Fith edition Space Marine. Fewer models, less titans.Comes with 48 Page Rulebook,112 Page Armies Book, 112 Page Battles Book, 51 Game Counters, Detachment Card Pad, 12 Fate Cards, 2 Playsheets, 20 Blast Markers. Mind the Epic magazine by Fanatic press. Expensions: Hive War
Note:5-6mm miniature i.s.o. 28 mm.
fury of dracula

One player is Dracula while the other players try to destroy him. Dracula has a seperate (secret) board. Lookalike of 'Scotland Yard'. Designed by Stephen Hand.

OOP (1987)

Game of Time & Space
Published in 1980, no further information other than that it might be Judge Dredd thing.
Gobbos Banquet
Apparently GW's return to publish less complicated games as well (2000)
gorkamorka

Based on the 40K concept, Orc gangs battle eachother, moving around in trukks and trakks.

Game has not such great reviews (click on the pictures, but maybe the guy is not a GW addict.

OOP

gorkamorka digganob

Games Workshop Digganob: Gorkamorka Supplement: Digganob is the mayhem-packed supplement for the Gorkamorka game. It contians splendid car models for your battlefield and a 96 page book crammed full with new rules
grapevine

An unmemorable game about wine manufacturing, designed for Coleman's of Norwich paul Cockburn, Phil Galagher, Pete Knifton, Ian Gastka).
(thanks to Tony Nardo for the pictures!)
heroquest




In co. with Milton Bradley.
Go for Adv. Hero Quest / Warhammer Quest when in doubt, unless you are a collector. Different UK/US (expensions) (see below)!!! US rules are different (e.g. multiple hit points for monsters). Released in 1990/1991.
Check globetrotter (10-30 Euro)
heroquest expensions

Expensions: , Kellar's Keep, Wizards of Morcar (UK), Dungeon Quest.

Others: Return of the Witchlord, Elf pack, Barbarian pack, Against the Ogre Hordes (UK) Adventure Design Kit (UK),

heroquest kellar's keep


10 new adventures, 16 plastic miniatures (6 GOBLINS, 3 FIMIR & 8 ORCS), game board overlays.

Released 1989 by GW/MB

heroquest wizards of morcar


16 miniatures, questbook + 5 new quest, 1 magic ref. chart, 3 magical barrier pieces, 1 EARTHQUAKE TILE, I LIGHTING BOLT TILE, 1 CLOAK OF SHADOWS TILE, 4 FIREBURST TOKENS, 6 BLOCKED SQUARE MARKERS, 3 BREACHED WALL MARKERS, 24 EVIL SORCERER SPELL CARDS, 9 NEW WIZARD & ELF SPELL CARDS, 23 MEN AT ARMS CARDS, 8 NEW TREASURE CARDS.

Released 1991 by GW/MB

heroquest ogre horde


7 miniatures (4 OGRE WARRIORS, 1 OGRE CHIEFTAN, 1 OGRE CHAMPION & 1 OGRE LORD), 1 QUEST BOOK CONTAINING NEW RULES & 7 NEW QUESTS, 3 DOUBLE SIDED ROOM TILES, NEW TRAP PIECES, RUBBLE TOKENS, 15 NEW CHAOS SPELLS, ALL 4 STONE DOOR HOLDERS (ie PLASTIC BASES)

advanced hero quest

See also Heroquest (above). An 'earlier' Warhammer Quest game. Expensions: Terror in the Dark. Main difference with hq: better rules, free format dungeon (tiles). The usual counters, boardpieces, miniatures, fluff, etc.
horus heresy

Based on Warhammer 40K.The game contains 181 double-sided, high quality counters, a full colour map of the Emperor's Palace and surrounding area, 12 special cards, 8 strategy cards, 4 set-up sheets, 2 off world areas, 1 reference sheet, 2 six-sided dice and a rule book with a full history of the war and LOADS of counters. OOP (1993)
inquisitor
Haven't got a clue what this is, but it's no blockbuster. Comes with a 192 rulebook, 2 sets of characters and some dice. Release 2001
judge dredd

Good game, follows the comic Judge Dread in humor. Up to 6 players. Recently re-published by Pegasus in Germany, not a home-grown GW product. (note: this is not the roleplaying game JD from GW by Marc Gascoigne).

OOP (1982) Ian Livingstone

judge dredd city block
city blok is a judge dredd expension, 1979. Floorplans, counters, it's all there. The 10 page booklet also provides a complete system for generating Hive World gangs

Ebay: $15-30

kerrunch

Bloodbowl variant

OOP (1991) Ebay: 40-100 Euro

kings & things

Kings and Things. 2-4 players draw tiles to acquire a variety of "things" (monsters, spells, etc.). They then use these "things" to fight each other (and
the denizens of the board!) in order to claim territories, income sources, etc.Build a Citadel before anyone else and hold it! If a second Citadel is built before a player can hold one for a complete turn, players continue fighting each other until only one player owns a Citadel.In coop with West End Games.

OOP (1986) Tom Wham / Dough Kaufman

lord of the rings

This box comes with a 128-page full color rulebook, 48 highly detailed plastic miniatures (8 men of Gondor, 16 elves, and 24 Moria goblins), a ruined building, and dice. Note the scale is 25 mm (while WH scale is 28 mm)!!!!!
Apparently every edition of the movie will trigger a new release of game (to keep in sync, 2001, 2002, 2003). Various add ons (like miniatures such as Fellowship
Lost Patrol
no info
no info / published 2000
man o'war




War game based on ship battles in a fantasy game (Elves, Golbins etc.). Several miniature boxes were published. Lot's of information on this games at The Sea of Claws. Several add on's (Plague Fleet, Sea of Blood). As usual, loads of counters etc.

Plague fleet comes with a 72 page rule book, loads of counters, fluff and fleets (chaos, chaos dwarf, skaven clan).

Highly OOP ($100+)

mighty empires

Mighty Empires is a kind of tile laying game, managing kindoms. It's both a strategic layer to the Warhammer Fantasy Miniature Battle system as well as a boardgame in its own right. Lot's of bits (off course, this is GW remember).

OOP (1990), Designers Nigerl Stillman en Rick Priestley. (Ebay: about $140)

mighty warriors

Another miniature game from GW, heroes versus Skavens. Game contains RULES, CHAOS FORCES LIST, COMBAT CHART, CHAOS SPELL SCROLL, HEROIC FORCES LIST, COMBAT CHART, HEROIC SPELL SCROLL, 19 DOORS, 12 FLOOR PLANS, 2 DICE, 20 SKAVEN, CHAOS WIZARD, NOBLE KNIGHT, HEROIC ELF, 12 WARRIORS, FEARLESS DWARF.

OOP (1991) Andy Jones

mordheim

Warhammer Fantasy skirmish game. Compatible with Warhammer. Boxed set comes with nice scenery (Actually, the skirmish rules are also described in the WHF-rulebook).

40 Euro

the monster that ate the moot
necromunda


Fight the 40K street with gangs (skirmish). Although OOP, (some/new) miniatures are still produced. Should I mention that there are many gang-miniatures available? Neeh. Games comes with scenery. (100 Euro) (still can buy the rules from the GW site though)
nightmare in blackmarsh
Dungeon Planner Set 2 for any fantasy role-playing game from Games Workshop, 24 pages, full cardstock fold-out map and region card (OOP 1984)
owl & weasal
quirks

Quirks is an interesting game with the idea of evolving creatures in three niches, plants, carnivores and herbivores. The goal being to create the top creature in the three niches. The characteristic and strengths of each creature varies over time depending on the enviroment. Forest, Desert, Ocean, Forest, Plains or Jungle. This is resolved by use of a trait calculator.In co. with Eon. Cardgame
railway rivals

The players operate a railroad company by building railroads in a efficient way. Designed by David Watts. Note, the markers provided tend to leave a permanet residu on the board. GW buy-in from 'Dampfross' (gameboardgeek).

OOP (1985)

rogue Trooper

Players each take on the role of one of the last G.I.s (Genetic Infantrymen) left alive after an infamous massacre.
In this board game based on characters from the British comic magazine 2000AD, you must complete missions to gain clues to find the traitor who destroyed your fellow GIs.

OOP (1987) (10-30 Euro)

space crusade

In co. with Milton Bradley, 2 expensions: eldar/mission dreadnaught. Content: 3 Marine Commanders, 12 Space Marines, 1 Chaos Marine Commander,4 Chaos Space Marines, 8 Orks, 14 Gretchin, 3 Genestealers, 4 Androids,1 Dreadnought), 32 Reinforcement tokens, 32 Blip tokens,12 Rank Badges,6 Honour Badges,4 Marks of chaos,1 Primary Mission token,1 Secondary Mission token, 1 Manual, 1 Alien Control Pane, 6 Special combat dice, 3 Marine Reference Charts, 3 Marine Docking Boards,4 Game boards, 24 Doors, 4 Walls, 3 Air lock doors, 5 Wall clips, 3 Commander Scanners, 64 Playing Cards (3x 12 Chapter), 28 Alien event cards. (not sure if complete)
space crusade:
mission dreadnaught



6 Space Marines with backpacks with dif. weapons, 4 Androids,2 Interchangeable Dreadnoughts
consist of: 2 bases, 1 pair short legs, 1 pair long legs, 2 lower hulls, 1 upper hull with 2 weapon mounts, 1 upper hull with 4 weapon mounts, 6 interchangable weapons, 1 Fusion Gun, 1 Las-cannon
1 Conversion Beam,1 Assault Cannon, 1 Missile Launcher, 1 Plasma Gun, 1 Marine Master Reference Chart, 2 Corridor Sections, 2 Walls, 1 Dreadnought Factory Gameboard, 2 Special Combat Dice, 8 Blip Tokens, 8 Reinforcement Tokens, 3 floor clips, 1 Rules/Mission Booklet. EBAY $150
advanced space crusade

by Jervis Johnson and Simon Forrest; Games
Workshop, Eastwood (Nott), 1990; 29,0 x 42,5 x 8,0 cm; 2 players.

Sold at Ebay for $285 (april 2001), should costs somewhere around 70-100 Euro.

space hulk

Various expansions

Great link(also check the webring) (includes jpg's of all the content!)

space hulk deathwing

Expension of Space Hulk
space hulk genestealer

Expension of Space Hulk
space fleet

Mighty Ships in Galactic Combat in the world of Warhammer 40K. This boxed game contains 4 detailed clip together ships (2 Imperial, 2 Eldar), 6 piece space map game board, helm computer cards, combat display cards, shield and damage tokens, 4 dice, easy to follow rules and a unique box lid Combat Tray.Can be expanded with other Games Workshop miniatures and rules (e.g. Battle Fleet Gothic).
space marine



Roleplaying wargame.Based on the Epic scale (small miniatures). Expension 'orc and squat warlords'

546 miniatures (12 landraiders, 24 rhinos, 240 space marines, 12 Eldar Grav tanks, 120 Eldar Guardians, 18 Ork battlewagons 120 ork boyz), 1 warlord Titan, 10 card buildings, 57 Epic army cards, ruling book and loads of (107 order, 9 rubble, 16 objective, 4 barrage) counters, 1 Titan playsheet, 2 ref cards, 1 scatter dice, 2 aim dices, 2D6.

space marine : hive war

Expension for Space Marine / Titan Legions. Epic scale.
startrek III
startrek combat game

Not quite sure if this is a role playing game (well, aren't all games some kind of role playing games).
superpower


OOP (1986)

talisman

Check for a full list of items
Check here for the history
Bagherra has another faq

Talisman is a cross-breed between a table-top game and an RPG. The game is played on one or several boards, depending on if any expansions are used. Event cards for interaction with other players. A lot of enthousiast players. Also check Trevis site. OOP (1983): 100 Euro (40-100 euro/exp.) Robert Harris. In addition there were 2 White Dwarf expensions and a fan creation ('Dragons liar'). If you want a view of the different board, look here
talisman expension set

Includes: 4x Characters cards (ncl. Amazon, Halfling, Rogue, Gladiator, Merchant, etc.), 6 spell cards, 36 adventure cards, Poster (no extra game board!)
talisman adventure

This Talisman expansion comes with 6 alternate endings: Demon Lord, Pandora's Box, Dragon King, Belt of Hercules or the Bhorrible Black Void. Talisman Adventure comes with:
37 full-color Adventure cards
11 full-color Spell cards
8 full-color Character cards
6 full-color Alternate Ending cards
6 full-color Talisman Character sheets
1 rule sheet

Rare ($100/EBAY)

talisman city


Talisman City comes with its own game board. Expansion contains: 1 Talisman City game board, 72 Talisman City Adventure cards, 7 Talisman Adventure cards, 3 Talisman Dungeon cards, 20 Purchase cards, 10 Spell cards, 5 Loan cards, Warrant cards, 6 Character cards, 6 playing piece cards,6 playing piece stands,1 rulebook

Rare ($100/EBAY)

talisman dungeon

The Dungeon Expension comes with 1 Dungeon game board, 4 "Doorway" cards, linking the Dungeon to the main board, 36 Dungeon Adventure cards, 14 new Character cards and playing pieces, 1 rule book

Rare ($100/EBAY)

talisman timescape

Time scape come with its own gameboards. The box contains 1 Timescape game board, 40 Timescape cards, 12 Timescape Purchase cards, 2 Spell cards, 4 Timescape Data sheets, 8 character cards and playing pieces, 1 rule book

Rare ($100)

talisman dragons

Talisman expansion (very rare). Does not come with an additional board but is to be played with the standard games.

VERY RARE! (last list price was $300+)

Box contains: 1 Dungeon game board, 4 "Doorway" cards, linking the Dungeon to the main board, 36 Dungeon Adventure cards, 14 new Character cards and playing pieces. 1 rule book

talisman magical quest (3rd edition)

This is the 3rd edition of Talisman, not as much of a hit as the 2nd edition. Comes (apparently) with plastic figures.
talisman dungeon of doom




Talisman 3rd edition expansion.
1 Dungeon Board Section
1 Mountain Board Section
6 Character Playing Pieces
6 Character Cards
1 Rules Sheet
40 Dungeon Cards
37 Mountain Cards
3 Adventure Cards
4 Special Item Cards
1 Realm Dice
talisman city of adventure

Talisman 3rd edition expansion (1994). Box contains , 1 city board, 1 forest board, 6 miniatures, 6 characaters cars, 1 rule sheet, 37 city cards, 40 forest card, 7 purchase cards, 4 adventru cards, 10 special card, 1 real dice. Box comes in 2 different shapes.
talisman dragons tower



Talisman 3rd edition expansion, comes with an impressive (plastic) dragon miniature
titan legions



The follow up to Space Marine. Where as SM was designed to represent huge armies of infantry, Titan Leigons was
about the war machines. Comes with two mega gargants and one imperator titan and a lot of other smaller things
tyranid attack
A lot like space hulk, but based on a Tyranid ship. You get a squad of Space Marine scouts and complete missions
on movable board pieces. Included the very old plastic terminator models too.
ultra marine

In regards to Ultramarine, the game was an extremely watered down version of Space Hulk - thinner versions of cardboard corridors, etc. The rules for this game were more similar to Advanced Space Crusade, in that the game heavily relied on a stack of cards with surprises such as artifacts, or a threat such as a Genestealer. The goal of the game was for each player to deploy his squad of scouts in a space hulk in order to recover (or steal) as many artifacts as they can. The biggest downfall of the game was the way shooting was carried out. (OOP 1990)
valley of four winds

One of the earlier GW games, apparently not much of game though. Long turn time and LOTS of counters.

OOP (1980) Lew Pulsipher, $40 (ebay)

vampire
warhammer


Main wargame from GW, set in the fantasy world. Lots of good links around. Various versions (1-5)

50 Euro
Expensions (scenario's):
- Blood Bath at Orc's Drift (1985)
- The Tragedy of McDeath (1986)

Warhammer Battle Magic

various Spells, counters and other fluff for Warhammer fantasy battle.Rulebook. 10 Spell Templates. 36 Card Magic Deck. 53 Counters and tokens. 33 Magic Item Cards. 123 Various Spell Cards
warhammer 40K
Main wargame from GW, set in the future. Large number of miniatures available. Lots of links

50 Euro

warhammer 40K:
dark millenium

Supplement to Warhammer 40K
warhammer quest



(note: WHQ+add ons)

D&D game, based on the warhammer principles. Very good and lots of miniatures.
Expensions:
-catacombs of terror (1995)
-deathblow
-liar of the orc lord

OOP: 70 Euro
warhammer quest:
catacombs of terror

warhammer quest:
deathblow

40 Page softcover book, contains articles reprinted from White Dwarf and some new articles.
warhammer quest:
domain of the horned rat
This expansion was released in the white dwarf magazine, consists of a set of rules, a huge Objective Room featuring an awsome Warpfire Generator, 1 Room card and 3 Event cards (introducing Skreek Deathstrike (Skaven Assassin), Quirrik (Skaven Warlock Engineer) and an awful Rat Golem). All gaming components included are printed on cardboard paper.
warhammer quest:
liar of the orc lord

warhammer quest: characters / cards

Games Workshop published a number of simple add ons such as additional treasure packs (#1,#2,#3) and additional characters. Here are a few: bretonnian knight, imperial noble, dwarf trollslayer, wardancer, elf ranger, pitfighter, warrior priest, chaos warrior. Boxes come with various fluff.

Note: in my boxed version of WQ, the treasure packs 1,2,3 were included.



warhammer quest:
dungeons denizins
Additional (plastic) minatures were sold under ordering name
FT01 (4 giant bats, 4 giant spiders, 4 giant rats, 4 snotlings, and 1 mighty Minotaur),
FT02: Swamp Monsters
FT03 (8 wizards) Dark elf, undead, chaos, human?

FT05 Knights Tetinue (knights)
FT06 (8 basic adventurers:Barbarian, Wizard, Wood Elf Scout, Dark Elf Witch Elf, Halfling, Dwarf Warrior, Dwarf Trollslayer, and Dark Elf Assassin (actually the same as in the boxed version + 2 extra).
FT?? Orc Mog: Black orc, orc + sword, orc + bow, goblin fanatic, 2 night goblin archers, 2 goblin spearmen
FT?? Chaos/Skaven: 1 chaos champion, 4 beastmen + halbard, 4 skaven + sword
FT?? Lizardmen: 4 skink bowmen, 4 saurus + handweapon
FT?? Elfs: 4 wood elf archers, 2 high elf archers, 2 high elf spearmen

warhammer quest: various mission
Typical missions from White Dwarf:

- mission impossible
- The flames ofkKhazla
- The darkness below
- dark secrets
- into the depth
- a dungeon of your own
- on the waterfront
- the lost kingdoms
- getting out once in a while
- getting a breath of fresh air
- room for improvement
- a green and pustulant land
- out of the darkness

These expension usually come with text, cards and rooms.

warhammer village pack
terror of the lichemaster
Warhammer Village Pack 2
warlock

Warlock. 2-6 players compete as warlocks in an arena. Each turn they must decide whether to learn spells and lose power points or compete in the arena with the hope of gaining power. Spells involve both direct damage and monster summoning, and there is some potential for spells to counteract each other. The last player to have any power remaining wins.A card based game. Above average quality. OOP(1980)
warlock of firetop mountain



Warlock of Firetop Mountain - 1986. A Steve Jackson game for 2-6 players. The
object of the game is to discover the secret combination of three keys and
survive. various monsters in order to unlock the Warlock's treasure chest. As usual, loads of counters/stuff. (10-30 Euro)
warmaster

The small miniature version of Warhammer. It allows you to have a massive war on. Book and starter armies are sold seperatly (as always: everything needs to be assembled/painted). Released 2000. Books & miniatures sold seperately. 6mm scale miniatures.
warrior knights

As a baron you lead your armies to raid cities. Also known as Warriors & Knights. Apparently a poor game.

OOP (1985)
In addition, GW produced four games for the younger gaming set. Each
game came with a tape full of silly songs:
- Hungry Troll and the Gobbos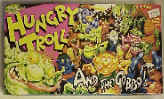 (bought it for 0,50 Euro excl. shipping costs)
- Trolls in the Pantry!


- Oi! Dat's My Leg!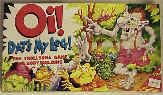 - Squelch!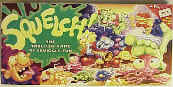 Games Workshop has also a number of 'under license' games such as Star Trek Role Playing Game (Fasa corp, 1983).
Notice: pictures taken from all over the world. Main sources were:
Page created dec 31st, 2000.
Thanks to Gilbert Benoit, Bagherra, Scott Alden (boardgamegeek), Richard Dewsbery, Edward Green, Tony Nardo (esp. for the loads of pictures and the description of some of the rare OOPs such as grapevine!), Stephen Tavener, Peter Millen, Randall, Stefanie Kethers, all responding from the newsgroup rec.games.board for pointing out some games I was not aware of. Check www.dejanews.com for articles from these guys). Special thanks to Trevor Clanfork, this guy has a major collection of GW games. Brian & Thomas has pointed out some of the last missing games. The site of AJarvis contains also a lot of GW games. In addition: Daniel U. Thibault for supplying additional information. Azz for his info on Tyrand Attack and Titan Legends. Jonathan Tang for his on on UltraMarines.
Following the links given above takes you to some interesting site.
click here if you want to check the GW-company financially (which is pretty interesting, at least to me)
Second hand shops that carry GW stuff
Legal notice: All games mentioned above and other trademarks of Games Workshop and other companies are used without permission and I argue no claim to them. This site is made out of the love for board games and most rules here are unofficial house rules. Please visit the site of the makers of this game and more at Games-Workshop.com Their legal view is located here. Some images and ideas represented inside are meant merely as reference, and or not intended to infringe on their rights.
All the pictures have been taken off the internet and none are be used for commercial activities (incl. Ebay).